How to use Final Grade Calculator?
There are three tabs that you can see on the top of the page.
Final
Overall Grade
Multiple Grade

Each tab contains different calculators. When you click on each, the appropriate calculator will appear below. Also, by default, it is set to "Final" and you can do the final grade calculation on that. Even more, if you want to calculate the overall grade then you can choose the second tab. The last tab is to find the final grade with multiple grades.
Now open the Final Grade Calculator and follow the instructions below.
1. Final
Firstly, enter the current grade, desired grade, and final exam weight respectively in the input boxes. After that, you can click on the "Calculate" button to start the process. As a result, you can find the grade needed on the final exam below.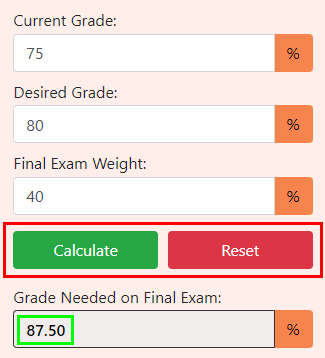 2. Overall Grade
If you already have taken your final test in school, then you can calculate your overall grade now. The process is very much similar to the Final one. Just enter the values and hit "Calculate". That's it. At last, you will get an overall course grade as output.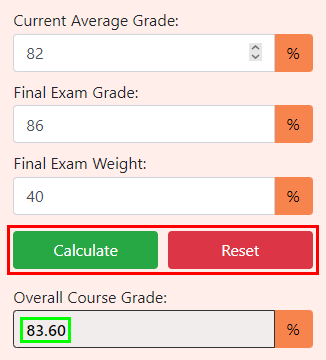 3. Multiple Grades
This is the most important and unique thing about this tool. Even more, it makes it the most recommended calculator on the Internet.
Here you can enter multiple grades with weight using the "+" button. Also, there is no limit to enter grades. So, you can enter as many as you want. In addition, you can choose the grade type in-between "Percentage" and "Letter".
Most importantly, you have to take care of one thing.
That is: Sum of wights must be equal to total weights!
It means,
Grade Weight + Final Exam Weight = Total Weights
Otherwise, it will give you an error message.