How to Use the Final Grade Calculator?
In the final grade calculator, there are three tabs for three types of calculations.
Final
Overall Grade
Multiple Grade

Each tab does different tasks and uses different formulas. The first tab is the Final tab which is the default tab. If you want to simply find the final grade then you can go with it. However, for even more you can go for Overall Grade or Multiple Grade tabs. Let's know about each of them one by one.
1. Final
It is used to find the grade needed in the final exam to achieve the desired grade. This tab has three input boxes: Current Grade, Desired Grade, and Final Exam Weight. Fill these three input boxes with the correct value and click on the "Calculate" button to get the final grade needed.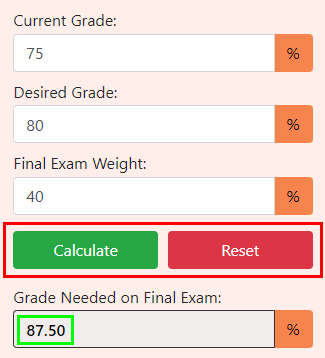 2. Overall Grade
This calculator is used to find the overall course grade when you have already given the final exam. It also has three input boxes: Current Average Grade, Final Exam Grade, and Final Exam Weight. Enter values in these three boxes and press the "Calculate" button to get the overall course grade.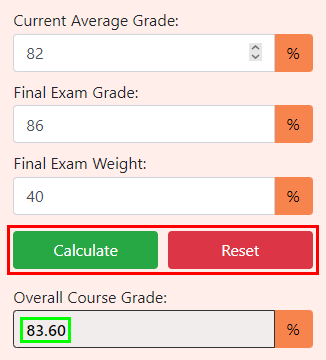 3. Multiple Grades
This is the most important thing in the Final Grade Calculator which allows you to enter multiple grades with weight. You can add multiple grades using the "+" button.
Also, you can easily switch between grade types. Here, you can enter the grades in Percentage or Letter. Just select the type you want. Enter the correct values in their respective input boxes and click on the Calculate button to start the process.
While giving the values, make sure that the sum of weights must be equal to the total weights.
It means,
Grade Weight + Final Exam Weight = Total Weights